For Huffington Post | A true labor of love, Paulaner Brauhaus & Restaurant NYC is finally about to open their doors and welcome thirsty guests on the Bowery. Located in the historic building that was once known as Sammy's Bowery Follies, a cabaret that had been a popular destination as early as the 1940s, it's as though this building had been waiting for Paulaner. With the Bowery's rich history as the first official thoroughfare for New York in the 1600s to rivaling Fifth Avenue as the prestigious must-have address during the early 1800s, this area is now continuing to see its rebirth after that period of time between 1850 and 1950 when it was mostly known for brothels and seedy saloons.
This new establishment will bring the traditions of Bavaria and heart of New York together while paying homage to the Bowery and Sammy's Bowery Follies. It was this eclectic combination that inspired Rudy Tauscher to work tirelessly to bring such an esteemed Brauhaus to this area of New York he so admires. "With my conversations with Paulaner, everything came together. They wanted to launch a flagship brewery and restaurant in New York — I know the brewery business, I've worked in the culinary business as a trained chef and I've opened two successful hotels here as a General Manager," Tauscher explains. "It was the perfect match — and our vision is the same — to serve our guests a taste of tradition, premium quality, hand-crafted beer and great, simple artisanal foods in warm, welcoming and fun environment."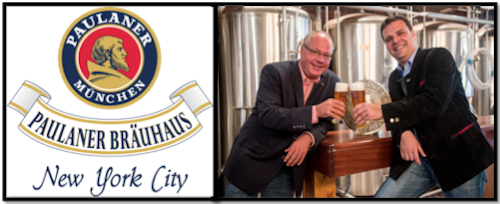 The Paulaner Brand:
As any beer connoisseur knows, the Paulaner brand has been brewing their beers for over 375 years, still using the recipes created by the Bavarian Monks while following the German Purity Laws of 1516. This is not your run of the mill microbrewery. Still honored to be one of only six breweries to supply beer for the Oktoberfest, Paulaner is also the leader in Bavarian beer exports internationally. With approximately 15 beer varieties at any given time, including seasonal specialties, they have a beer to satisfy everyone.
The Bowery Location:
Maintaining the industrial design of the area, the location provides the best of what's old and new, along with a hint of Bavarian influences. Large floor to ceiling windows, exposed brick walls and ceiling piping all give you that grand industrial feel from the moment you enter the building. The large copper and steel fermentation tanks are showcased as you enter so guests can see their beer being brewed. The owners even created a lower level for private dining that pays special homage to the always entertaining and colorful past tenant, Sammy's Follies.
The Menu:
A healthy collection of brews will be available on any given night. At the time of this story, the location is waiting for the city to turn on their water so brewing can begin. They will begin with the Hefeweizen, in hopes that it will be flowing in time to celebrate Oktoberfest with their Bowery community. Eventually, they will have Munich Lager, Munich Dark, Hefeweizen and select seasonal brews on tap. The menu is designed to compliment the amazing brews with a taste of Bavaria combined with local New York touches. Local ingredients will be sourced to create all the favorites paired with barrel-fermented krauts and coleslaws.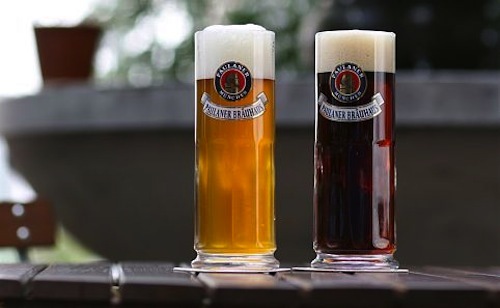 The Heart and Soul of Paulaner Brauhaus & Restaurant NYC:
Rudy Tauscher comes from a family with beer running through their veins. In the small village of Tettnang, along the border of Germany and Switzerland, his family has owned and operated the Krone Brewery and Inn since 1847. His life has now gone full circle; from beginning as a trained chef in restaurants throughout Europe to managing luxury hotels around the world in destinations such as South Africa, United States and France, this endeavor proves to bring together his lifelong work under one single roof.
Mr. Tauscher says, "During my childhood years, I spent my summer vacations working in my father's operation, and when I travel the world today, I'm always on the lookout for local breweries — it's in my DNA. It was great fun to decide to return to my roots and doing this in the United States of America, where entrepreneurship is one of its fundamental characteristics, made it an inspiring, exciting and logical choice."
While Paulaner is expanding with these Brauhaus locations around the world, the process is as robust and complex as their beer. However, with Mr. Tauscher's background and his passion for this project, it was a perfect match. The entire process continued to come together with the addition of Brew Master, Andreas Heidenreich. In traditional German fashion, he began as an apprentice at an early age at the local Paulaner brewery. Mr. Heidenreich has proved himself as being invaluable to a number of Paulaner locations throughout Europe and Asia while being involved with the overall development of the restaurants, in addition to overseeing every aspect of the brewing process.
Final Take:
New Yorkers are tough critics, but with the attention given to the Bowery community and the historical integrity of this building, paired with the traditions of the Paulaner brand, the beer should be flowing for many, many years to come. With a fairly large German population in the New York area, combined with the growing trend of microbreweries, it seems that Paulaner has entered the scene at an ideal time. We can all hope that establishments such as this continue to bring new life to the area, and encourage the further revitalization of the Bowery.