For Huffington Post | When it was time for the team at Marriage Equality USA to produce an inventive public service announcement, this amazing collection of individuals set out to make history when the cameras begin rolling. SHE4MarriageEquality will be launching this video for the song written and performed by Jen Foster and produced by Wingspan Pictures. To make it even more special, Eve Nelson has worked the song to include an orchestral dance mix, one sure to become another dance anthem when it goes viral.
Marriage Equality USA is known as one of the most forward-thinking grassroots movements today. This PSA will only further their position in the LGBT community as the organization continues to tell their stories, which showcase the harms of marriage discrimination and the joys of marriage equality to the world. Their incredible team of volunteers works tirelessly to fulfill their mission to secure legally recognized civil marriage equality for all, without regard to sexual orientation or gender identity, at the state and federal level through grassroots organizing, education, action and partnerships. Brian Silva, Executive Director of Marriage Equality USA said, "Music and video projects like this have the power to impact millions of viewers by showing the love and commitment that is celebrated and protected by passing civil marriage equality for LGBTQ families. We at MEUSA are thrilled to be a part of the SHE4MarriageEquality project!"
Leading this project is none other than writer/director Nicole Conn. This multiple award winner was most recently named one of the top ten gay women in show business by POWER UP and is known for her groundbreaking lesbian movies Claire of the Moon (1992), Elena Undone (2010) and A Perfect Ending (2012) featuring Jessica Clark (vampire goddess "Lilith" from HBO's True Blood). With this talented lineup at the forefront of this project, a number of familiar faces were eager to be involved, including award-winning actresses Barbara Niven (A Perfect Ending), Nicole Pacent (Anyone but Me), Gabrielle Christian (South of Nowhere) and Mike C. Manning (The Real World).
Nicole Conn said, "When asked if I would be interested in directing the SHE4ME PSA, I jumped at the opportunity. It's been thrilling to create a beautiful storyline and imagery to promote marriage equality as it pertains to women. It's my personal quest to show the beauty of women's love at its most tender, graceful and sensuous, and to make a statement that escalates the message of how truly sacred our love is and how it deserves nothing less than Marriage Equality."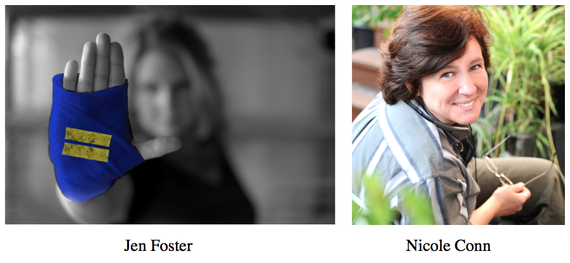 SHE4MarriageEquality tells a story of what seems to be a traditional bride and groom on their wedding day, which will be filmed in the heart of West Hollywood. The boutique hotel Andaz West Hollywood will be hosting this monumental PSA event, where in addition to this impressive guest lineup, choreographer Anthony W. Johnson has prepared an exhilarating lyrical dance sequence that will feature two women dancing together, which they feel is underrepresented in the media. This seems to be only one of the many ways this projects intends to make an impact and leave an impression… not to mention music that will leave you only wanting to see and hear more.
Agustin Cruz, Marketing Communications for Andaz West Hollywood said, "We [Andaz West Hollywood] have been transparent about our support of the LGBT community, marriage equality in particular, so we were deeply honored when the creative forces behind SHE4ME chose to film here. And this project is right up our alley; taking a modern concept like a viral video and applying it to a traditional medium like a PSA is something we know very well — sort of like taking the front desk out of a hotel lobby."
The Andaz West Hollywood proves to be friendly to all their guests but has also become the favorite hotspot for LGBT activities, including several weddings making news recently. Matthew Breen, Editor-in-Chief of The Advocate, married his partner Andreas at the beautiful rooftop pool deck, and Michael Torsiello and Adrian Pellereau's unique story made headlines when they said "I do" twice, the second time being official, immediately following the United States Supreme Court overturning Prop 8 and a key section of DOMA.
When looking at the approach of developing this PSA in the form of a music video, Jen Foster is thrilled and said, "It started out as a small project and now it has snowballed into this large movement. Everyone who has pitched in to make this PSA come to life has been so genuinely excited to help. It has been a really moving experience."
To make this project a reality, a strong unity of supporters comprises Marriage Equality USA, Visit West Hollywood, WOLFE Video, Curve Magazine, Andaz West Hollywood and dedicated volunteers. With all the pressure to produce a PSA that is truly magical, this collection of talented industry leaders are approaching this project with a calm professionalism while being extremely excited about the final video when it's released later this season.